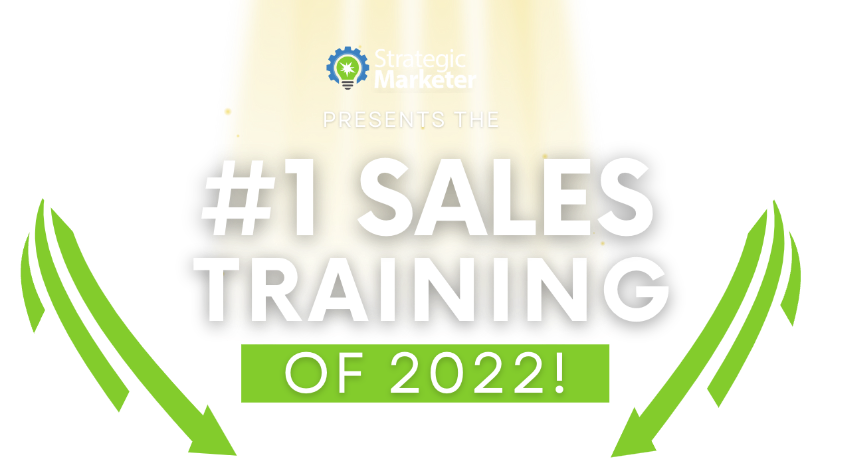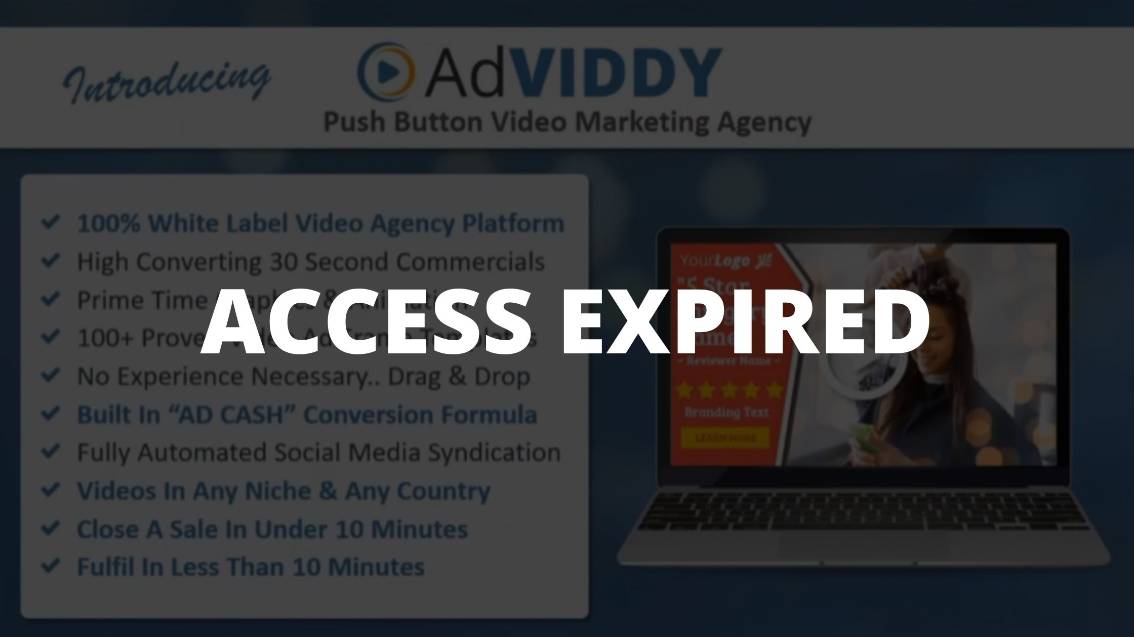 Members Price only $1 per Video Right Now...
Get AdViddy plus Today's Double Video Unlock
and $7,000 in Never-Again Bonuses!

Success Stories, Big & Small, Say It All...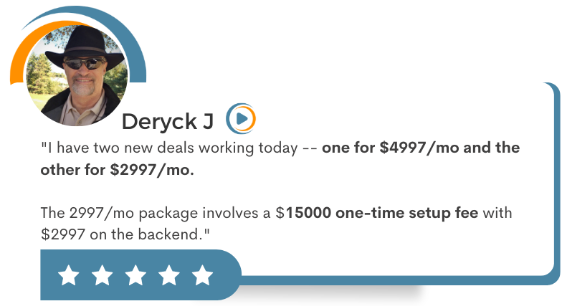 Cari Made $600 In 5 Minutes...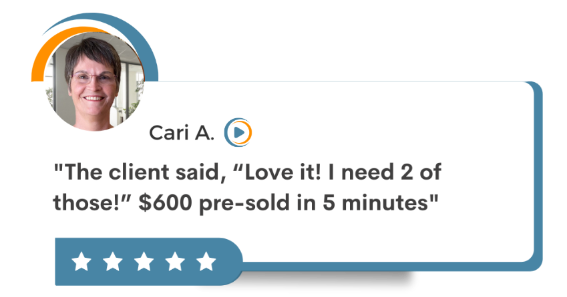 Steve Closed $10,000 Using The Scripts...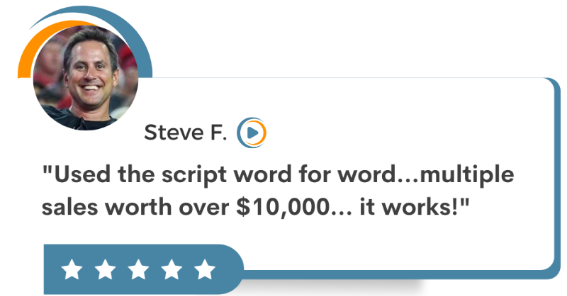 Creating High Converting Videos is Simple!
AdViddy's proprietary ADCASH Video Formula Outperforms Other Videos ... some by over 900%!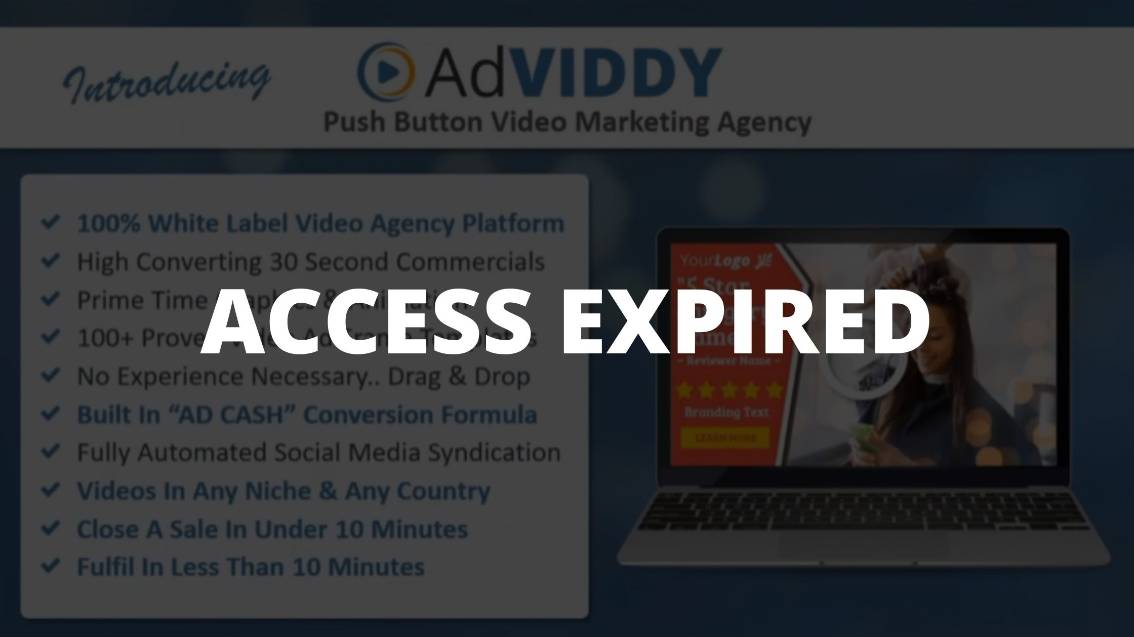 Get AdViddy plus Today's Double Video Unlock & $7,000 in Bonuses Before It's Too Late!

And if editing isn't "your thing"...
The AdViddy Stacks Up With Some of the Biggest and Best Brands With a Fraction of the Learning Curve!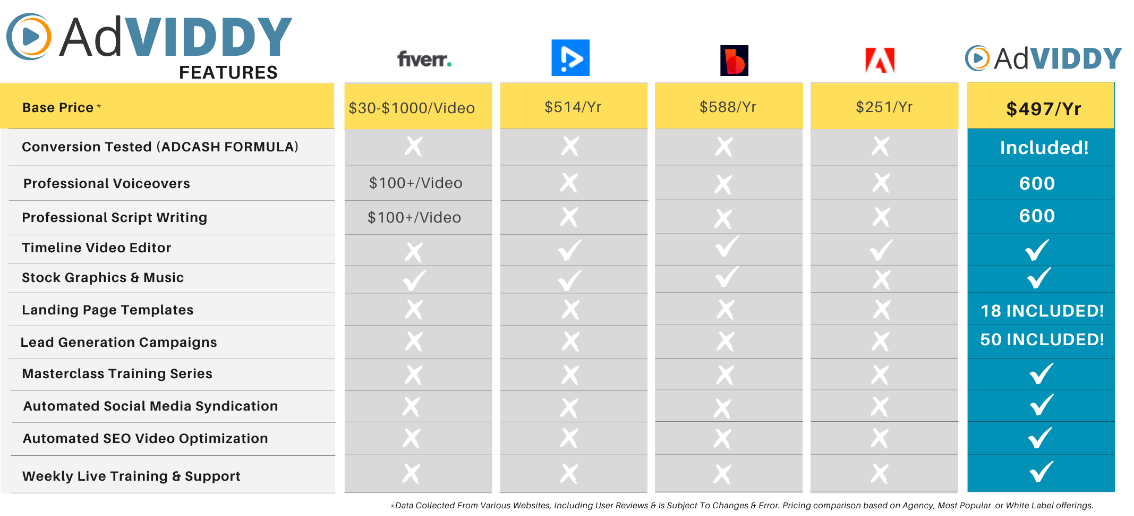 + ACT NOW FOR $7,000 IN MEMBERS BONUSES including...

Instant Client System - 5 Part Masterclass Training
Discover First Hand...

This immersive "over the shoulder" style training will uncover my word for word sales methods including slide-decks, transcripts, and everything you need to make sales!
✓ My Step-By-Step Process Sales Method
✓ My Slide Decks And Presentation Notes
✓ Live Presentations Transcripts
✓ Expert Conversion Secret Templates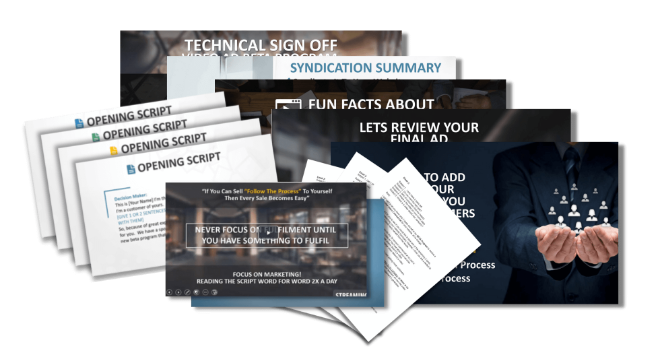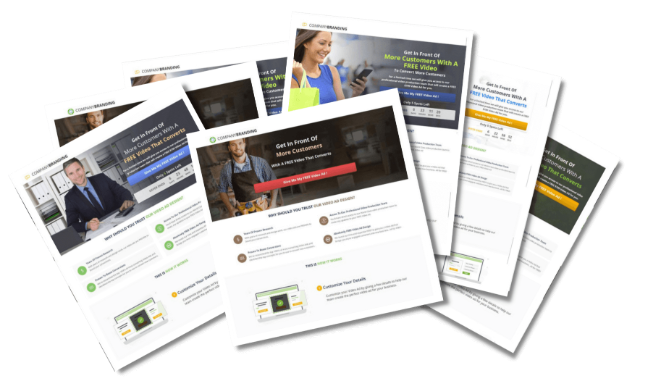 Unlimited Lead Capture Landing Page System
+18 DFY Landing Pages!
Market your new turnkey video-ad-agency with powerful landing pages optimized for conversions and ready to help you reach incredible niches!
✓ 1 Click Instant Page Creator
✓ Create Unlimited Landing Pages
✓ Built In Split Testing & Analytics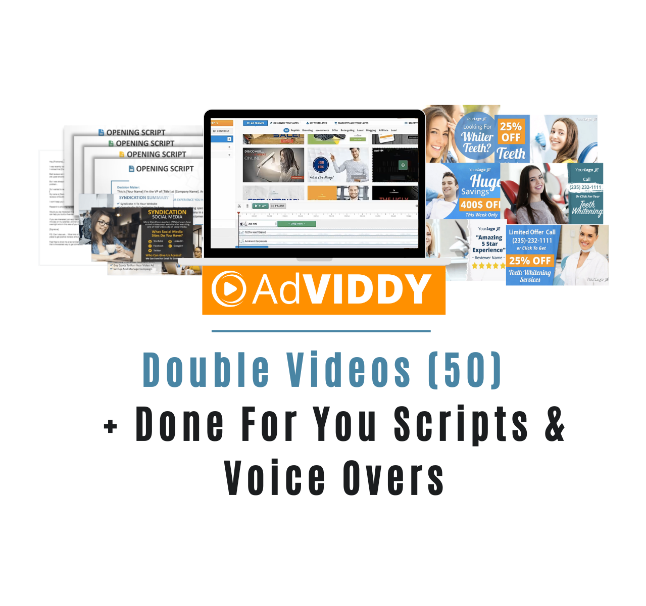 Double Video Unlock + Video Scripts & Voice Overs Every Single Month
​
Perfect For SEO Rankings!
Imagine having the ability to quickly create powerful sales videos for your agency and your clients! We are doubling your opportunity and your reach!​
✓ 100% Unique Scripts For Each Video
✓ Professional Voice Overs For Each Video
✓ Instant Download Into Your Video

NEW 30 Second Commercial Videos
Follow Our Conversion Formula...

It has never been easier to create high-converting ads in the most lucerative niches using our done for you ad templates!
✓ Done: 30 Unique Niche Services
✓ Done: For 10 Of The Top Most Lucrative Niches
✓ Done: 30 Second Video in Minutes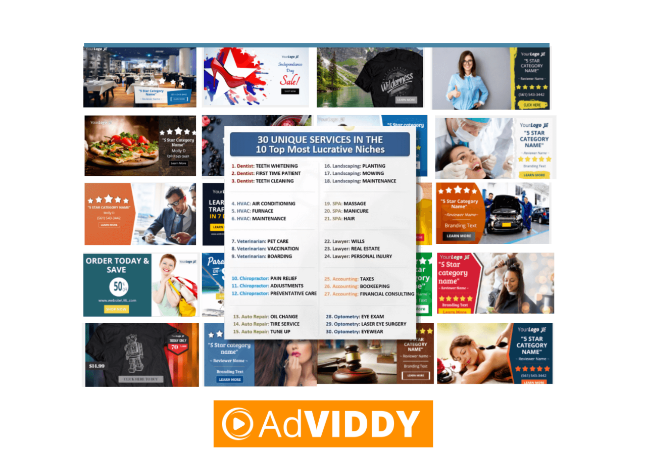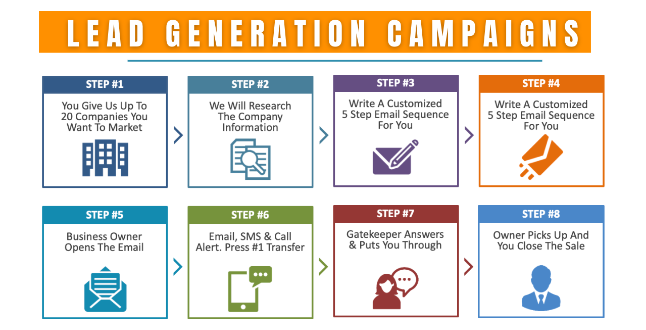 50 Lead Generation Campaigns With LIVE Hot Lead Transfers!
Done For You Lead Generation Campaigns...

We will help you reach out to 20 companies by doing all the research and sending out a five step email sequence with #1 call transfers and sms alerts included!

Are You Ready to Join these Success Stories?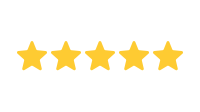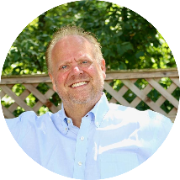 Jamey C.
"So I did a test with a client with a video ad... client got 2 jobs of $450 each from the test... Just locked him into PPC management and more ad viddy!!


Thank you David Sprague"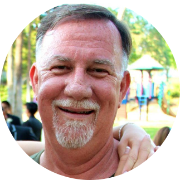 Terry M.
"After using David's AdViddy Powerpoint Presentation today they were so impressed with my presentation...I sold them a $397 AdViddy with Retageting...They have a second office too and plan on providing us with plenty of referrals."
Steve F.
"I used the adviddy script word for word and it walked me right into multiple sales worth over $10,000 and more than 35 appointments!

I am not good at sales but with this script, I am now confident and know that it works!​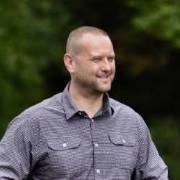 Greg V.
"I showed an example to my Mortgage Broker client and she agreed to ​purchase one for $400 right away!I believe the video ads will be the final nail in the competition's proverbial coffin!"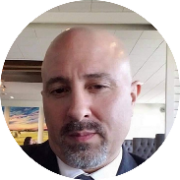 John M.
"Being new here, It's amazing that the first 2 free video's i give away turn into sales. One at $300 other at $400.

Both will turn into MRR."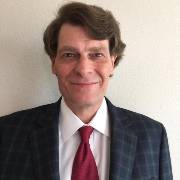 Jeff M.
"This Ad Viddy client has only had 9 views for the YouTube version and already received one phone call for a quote after viewing the video.

Our client is very happy!​
Maybe You Still Have Questions...
What's the Fastest Way to Get Leads & New Clients?
Bonus 1! Follow the 5 Part Masterclass Series for everything you need to get started - step-by-step sales training along with the scripts and sales resources. Then get out there and take action along the way!
I'm Just Starting, What Niche Should I Target First?
Check out Bonus 4! Activate the Done-For-You 30 Second Commercial Templates in some of the most lucractive niches to get started fast. Plus, AdViddy already has full-length video templates waiting to help you too!
I Don't Have Customers, What Examples Can I Use?
We got you covered! The easiest to use is the example on the AdViddy training. Just google "Bathroom Cleaning Jupiter."
How Many Credits Do I Get?
Right now, and only now... We double your video credits from 25 to 50 credits every month! Plus we also double your scripts and voiceovers each to 50 as well!
Where Can I Use the Videos?
Anywhere you need an online video - ADCASH Formula is perfect for ads, websites, social and branding.
Are the Video Templates Unique Enough for Youtube?
Yes! We have a proprietary strategy that allows you to click one button (literally) to change frame rates, video format and length. And, you can create 100% unique voiceovers! However, we suggest creating no more than 2 videos per day, per channel.

Once Today's Offer Expires It's Gone FOREVER!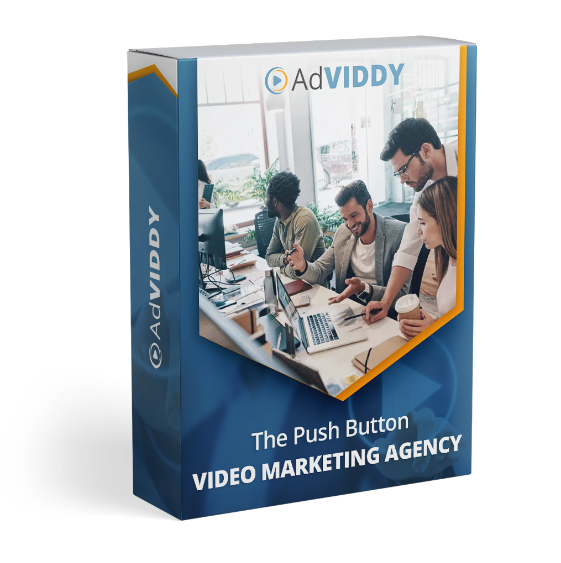 Includes $7,000 in Bonuses!
✓

100% White Label Video Agency Platform
✓

Easily Create High Converting 30 Second Commercials
✓

Loaded With 100+ Prove Video Ad Frame Templates
✓

No Experience Necessary: Simply Drag & Drop To Build
✓

Customize Videos For Any Niche & Any Country



✓

Fully Automated SEO Optimiztaion & Social Syndication
​

​​
Strategic Marketer can not and does not make any guarantees about your ability to get results or earn any money with our ideas, information, tools, or strategies.
Nothing on this page, any of our websites, or any of our content or curriculum is a promise or guarantee of results or future earnings, and we do not offer any legal, medical, tax or other professional advice. Any financial numbers referenced here, or on any of our sites, are illustrative of concepts only and should not be considered average earnings, exact earnings, or promises for actual or future performance. Use caution and always consult your accountant, lawyer or professional advisor before acting on this or any information related to a lifestyle change or your business or finances. You alone are responsible and accountable for your decisions, actions and results in life, and by your registration here you agree not to attempt to hold us liable for your decisions, actions or results, at any time, under any circumstance.
This site is not a part of the Facebook website or Facebook Inc. Additionally, This site is NOT endorsed by Facebook in any way. FACEBOOK is a trademark of FACEBOOK, Inc.